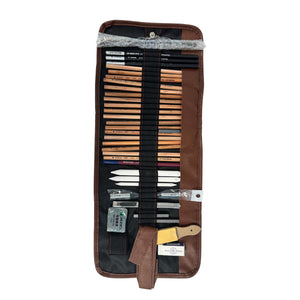 33 Pieces Drawing Kit Sketching Pencils Set
Regular price $22.99 Sale
12PCS SKETCH PENCIL: A wide variety of hardness for all your artwork needs.Includes premium sharpened professional graphite pencils (5H, 4H, 3H, 2H,HB, B, 2B, 3B, 4B, 5B, 6B, 8B). The pencils are a sturdy hexagonal shape.The graphite is even, smooth, blends easily. Non-toxic and eco-friendly friendly pencils conform to strict ASTM D-4236 and EN71 standards.

21pcs PERFECT ACCESSORIES:This sketching set includes almost all the accessories for sketching and drawing,includes premium quality charcoal pencils, graphite and charcoal sticks, paper blending stumps, vinyl and kneaded erasers, pencil extender, art knife, graphite and charcoal sharpeners, sandpaper block, portable zippered nylon carrying case.

ENDLESS POSSIBILITIES:For beginners and professional artists, you can express your talent and enhance your potential art skills as an artist. Ideal for drawing, sketching and doodling.Find inspiration and start your art career with this art set.

PORTABLE:Non-toxic components and travel-friendly nylon carrying case which is portable for you to do sketching anywhere and anytime. Strong compact inside and zippered carrying case to hold and protect all the sketching tools inside in safe when travelling, all the contents stay organized and tidy, moreover, the carrying case can be standable for easy access to all the tools inside.

GIFT:Drawing pencil set for artists not only meets your own all needs, but can also be given to adults, artists and kids as gifts,this all-in-one set will be your first choice to express your greetings and sincerity.